| | | |
| --- | --- | --- |
| | 자전거 세척기 (Bicycle Cleaning Machine) | |

Bicycle Cleaning Machine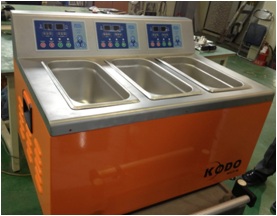 Bicycle Parts Cleaning Procedures

Whenever possible remove heavy soils or debris (such as large deposits of grease and grit). Place drive
Train parts into basket (chains, derailleurs, cranks, etc.) being careful not to overload the basket. Place
the basket into the ultrasonic cleaner for a pre-set period of time, usually 5 minutes. Overloading
the basket may improve processing time, but parts will not be cleaned as thoroughly.

After cleaning, let parts flash dry and blow off excess solution with compressed air. Place cleaned/dried parts
into ultrasonic lubricating pan or chamber for approximately 5 minutes. The 400L lubricant will continue to
clean the parts and remove cleaning solution residue. After 5 minutes remove parts and blow off excess
lubricant using compressed air. Additional lubrication or greases may be applied as desired.

Getting greasy is a kid's thing, not something encouraged

at a professional bicycle store. So when a product comes along

that takes the mess out of cleaning bicycle parts, and does it in

only 3~10 minutes, well, you have to take notice.
A KODO Bike Parts Clean and Lube System is an all-in-one system that eliminates contaminates in bicycle parts
in 10 minutes. Just turn on the KODO ultrasonic cleaner, drop the parts in the special OIL-based cleaner,
let set for five minutes, blow off, then move to the lube station.
Leave for five minutes, blow off again, and the cleaning is complete. The parts come out entirely
clean and with a thin film of a light lube.
Want to take that heavy film off of a new bicycle chain? The KODO can do it in 3~10 minutes.
Completely clean a drive train?
Again, it takes the KODO a mere 3~ 10 minutes. Plus, with a KODO Ultrasonic System, you can leave the
parts to clean while you perform other tasks.
How does ultrasonic cleaning work? Through a generator built into the KODO system, voltage is produced
which emits acoustic frequencies at 28,000 cycles per second . The high frequencies invoke sound waves
into the cleaning solution which produce alternate zones of high and low pressures. During the
low pressure cycle, tiny bubbles are formed which collapse in the high pressure of the next half cycle.
As the bubbles collapse, they release shock waves that, by their scouring
action, dislodge contaminates from the surface of bike parts. The end result is an ultra-clean bicycle part.
The KODO Bike Parts Clean and Lube System:
Cleans parts hand's free. Is more efficient than hand cleaning. Completely Safe – chemicals are
non-hazardous, biodegradable and emit no odor. Eliminate costly chemical disposal fees.
Saves in labor costs.
1st
2st
3st
Capacity
17liter(Respectively, 5.7liters)
Tank Size
295x240x160
295x240x160
295x240x160
Outer Dimentions
Weight
Temp Range
-70℃ (Each temperature control)
Ultrasonic Freq.
28kHz
28kHz
28kHz
Input Poaer
AC220V/60Hz
Ultrasonic Power
200W
200W
200W
Heater Power
190W
190W
190W