| | | |
| --- | --- | --- |
| | 벤딩 시험기 BENDING TESTER 간단하면서 데이터를 PC로 수집할 수 있습니다. | |

YM-A04 Fastener Bending Tester
Introduction:
This tester is for the fasteners which are used for wooden products. Use the way of 4 points bending fixture, in order to measure the yield value when the fasteners are bending. Make sure the safety of the structure. The testing methods and conditions comply with the standard of EN409.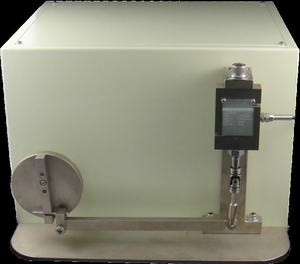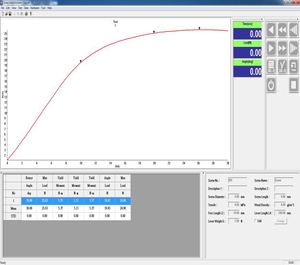 Specification:
Transducer: 500N(50kgf)
Max. bending yield moment: 100N-m
Rotary speed: 1~50 rpm
Fastener diameter range: 3~12mm(includes 1 set of fixture)
Motor: AC Servo motor
Dimension: 450x400x320(mm)
Weight: 20kg
Power supply: 1ψ, AC 220V, 10A
2-year warranty(differ from the market which has 1-year only)
Satisfy EN409
Software 1 set, equipped a USB transmission cable
Manual operation
Critical inspection before shipment and a calibration report attachment
Software:
Max. yield moment formula of EN409, and auto calculate the value of the max. yield moment to the specimen after test.
Flexible set-up for the curve, and simultaneously compare with multiple curves.
Metric & Imperial System units are switchable, and simultaneously set-up every decimals of units.
Testing material database system, able to set up dimension of the frequently used specimens. Available to save up the testing methods and other parameters. No need to rekey in with convenience.
Available to print up the name, logo of the company, testing methods, data, statistics table, curve and notes.
Testing data can be output to Excel
Curve can be output into standard graphic file
Load, time and emergency stop…multiple protections
Compatible Microsoft OS: Win XP, Vista, Win7, Win8
Operation mold: USB connectivity and control system bio-transmission
Cost-free for the software upgrate
Apply to external diameter 3~4mm fastener
Apply to external diameter 4~6mm fastener
Apply to external diameter 6~9mm fastener
Apply to external diameter 9~12mm fastener
PC(1-year warranty)
Processor: Dual core Processor 2.4GHz or above
Memory: 2GB or above
Hard drive: 250 GB or above
DVD Super-multi CD-ROM drive
System: Microsoft OS Win 7 or above
22"TFT (1024*768)
Keyboard and mouse set